As part of the Routledge series on Comparative Constitutional Change, a new book on Populist Challenges to Constitutional Interpretation in Europe and Beyond, co-edited by Fruzsina Gárdos-Orosz and Zoltán Szente has just been published. This book explores the relationship between populism or populist regimes and constitutional interpretation used in those regimes. The volume discusses the question of whether contemporary populist governments and movements have developed, or encouraged new and specific constitutional theories, doctrines and methods of interpretation, or whether their constitutional and other high courts continue to use the old, traditional interpretative tools in constitutional adjudication.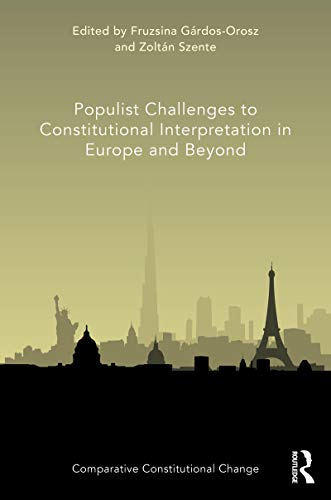 The book is divided into four parts. Part I discusses the theoretical implications of populist constitutionalism by Zoltán Szente (Chapter 1: Populism and populist constitutionalism) and constitutional interpretation by Fruzsina Gárdos-Orosz and Zoltán Szente (Chapter 2: The art of constitutional interpretation), the connection between political systems and the applied methods of constitutional interpretation by Anna Gamper (Chapter 3: An 'Instrument of Government' or 'Instrument of Courts'? The Impact of Political Systems on Constitutional Interpretation and the Case of Populism). In this part, Mark Tushnet's study addresses a key issue of the topic (Chapter 4: Can There be Autochthonous Methods of Constitutional Interpretation?).
Part II on "Constitutional interpretation and populism in Europe" examines the topic from a comparative perspective representing those European countries where populism is most prevalent, exploring how populist political aspirations have affected the way of constitutional interpretation, namely in Austria by Konrad Lachmayer, Czech Republic by Zdeněk Kühn, Croatia by Djordje Gardasevic, Greece by Apostolos Vlachogiannis, Hungary by Fruzsina Gárdos-Orosz, Italy by Gianmario Demuro and Riccardo Montaldo, Poland by Wojciech Brzozowski, Romania by Alexandra Mercescu, Spain by Francisco Balaguer Callejón and United Kingdom by John McEldowney.
Part III extends the focus to the United States, reflecting how American jurisprudence and academia have produced the most important contributions to the theory of constitutional interpretation, and how recent political developments in that country might challenge the traditional understanding of judicial review (Mark A. Graber and Martin Loughlin). This section also includes a general overview on Latin America, where there are also some populist governments and strong populist movements (Pablo Riberi). Finally, the editors' closing study analyses the outcomes of the comparative research, summarizing the conclusions of the book.
Written by renowned national constitutional scholars, the book will be essential reading for students, academics and researchers working in constitutional law and politics.
The editors:
Fruzsina Gárdos-Orosz is Director and Senior Research fellow of the Institute for Legal Studies, Centre for Social Sciences, Hungary, and also Associate Professor in Constitutional Law at the ELTE Law School in Budapest, Hungary.
Zoltán Szente is Professor of Law at the Department of Constitutional Law, National University of Public Service, and he is a Research Professor at the Institute for Legal Studies, Centre for Social Sciences of the Hungarian Academy of Sciences, Budapest.
The editors are the co-chairs of the IACL Research Group on Constitutional Interpretation.